For a european Spring has organised two film and speaker nights to get people informed and excited about BLOCKUPY 2013 on 31st May; For a european Spring organise deux soirées d'information d'éduquer et mobiliser les gens pour BLOCKUPY 2013, 31 Mai.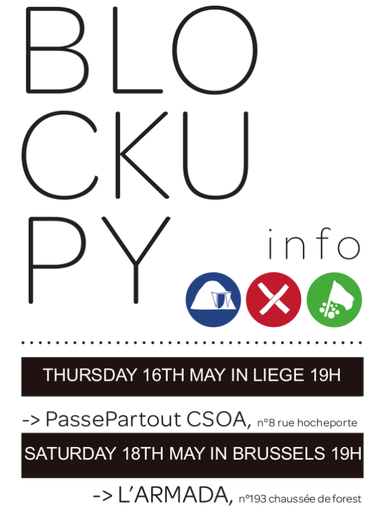 We had a strong start to the spring here in Brussels: the 13th March saw the Austerity Tour and the 14th the occupation of the European Commission's DG ECFIN (Austerity HQ). Now we're looking forward to the 2nd anniversary of the 15M and expect to be in Germany on May 31st to block the European Central Bank (ECB).
For a european Spring has organised two films&speakers nights on May 16th in Liege (PassePartout CSOA) and 18th May in Brussels at the Armada.
It kicks off with a screening of "When Europe save its banks, who pays?", released in April and directed by Harald Schumann. The film clearly shows the blackmail used by the ECB to collectivise losses but privatise profits. The screening will be followed by a discussion with a speaker from Committee for the Abolition of Third World Debt (CADTM) and then practical information on Blockupy 2013 (meeting places, travel, accommodation etc.).
Days of Action:
- Friday 31st May: non-violent direct action/civil disobedience, with the primary goal of blocking the ECB. Other actions are planned for the afternoon, along with public debates and meetings
- Saturday 1st June: International protest and European assembly, linked to the call for an international day of protest against the troika called for by 'Peoples United Against the Troika' and 'Que Se Lixe a Troika'
- 7th-8th June in Athens for the Alter-Summit
- And each time in every local struggle that shares our goal of blockupying Europe.
For all practical information:
- at http://foraeuropeanspring.org/ and http://blockupy-frankfurt.org/